Our cloud app SafetyStock ExpreSS shows the optimum level of safety stock for your products giving you access to optimum safety stock settings for 6 million combinations of the following parameters:
Target Service Level
Demand Accuracy
Lead time
Supplier reliability
Order cover period (due to Lot Size/ MOQ/ Rounding quantity)
Replenishment Frequency
Forecast Horizon (within which all demand is firm)
Planning Method (MRP and Reorder Point with Fixed Reorder quantity are currently supported)
Analysis functions show graphically how optimum safety stock levels change with service level, lead time, demand accuracy, supplier reliability and order cover period. Supply Chain professionals seek continual improvement and this enables prioritization of improvement projects like lead time reduction or demand planning process change or supplier reliability improvement.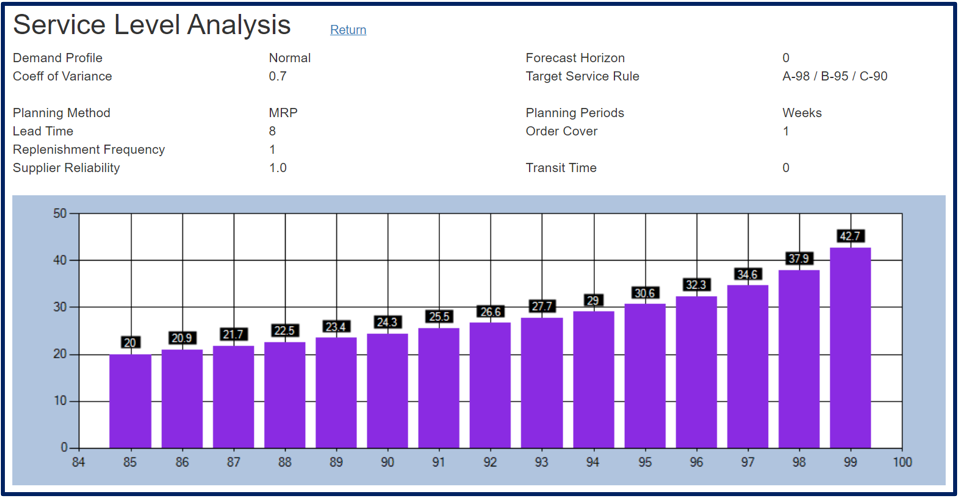 The app is multilingual (English And Chinese currently available) and comes with a user guide giving practical advice on applying safety stock results as well as a full description of the app's functionality. It is hosted by the highly reliable Microsoft Azure platform and your access to it will be created at the point of purchase.
To buy a first year license for SafetyStock ExpreSS please use the button below. This will allow your specified Microsoft ID (the email address linked to the user account that you use to log in to your computer) to use the app for one year.
You can also try the app for a small charge covering our admin costs. This allows you to assess the capability of the app by calculating safety stock levels for 3 combinations of factors use the button below. (You can claim a discount equal to the cost of the trial if you buy SafetyStock ExpreSS within one year of buying the trial edition)
Under the terms of our license the product may be used by one specified user for one year. To purchase license renewal for subsequent years please use the button below:
There are two important callouts from our license agreement:
Real life events over a limited period of time may be different from our statistical model so we not offer any guarantee that a service level will be achieved in practice and do not accept any responsibility for the business result achieved after applying our safety stock recommendations.
We take the security of our database very seriously and reserve the right to block any users from accessing it if they exhibit robotic behaviour that indicates they are systematically copying the results. No refunds will be given in such circumstances.
---
For the quick start guide describing the simple process for getting started click the document link below to see the QSG or download it.