MRP Practitioner is designed to enable planners to practice following formal training but can also be used as a standalone training package. In our experience practice is essential to protect the investment made in training your team and our desktop app brings MRP to life by presenting the controlling parameters and key figures for the material plan together in one panel. The impact of parameter changes can be easily simulated (very difficult in a live system) giving weeks of practical experience in a day!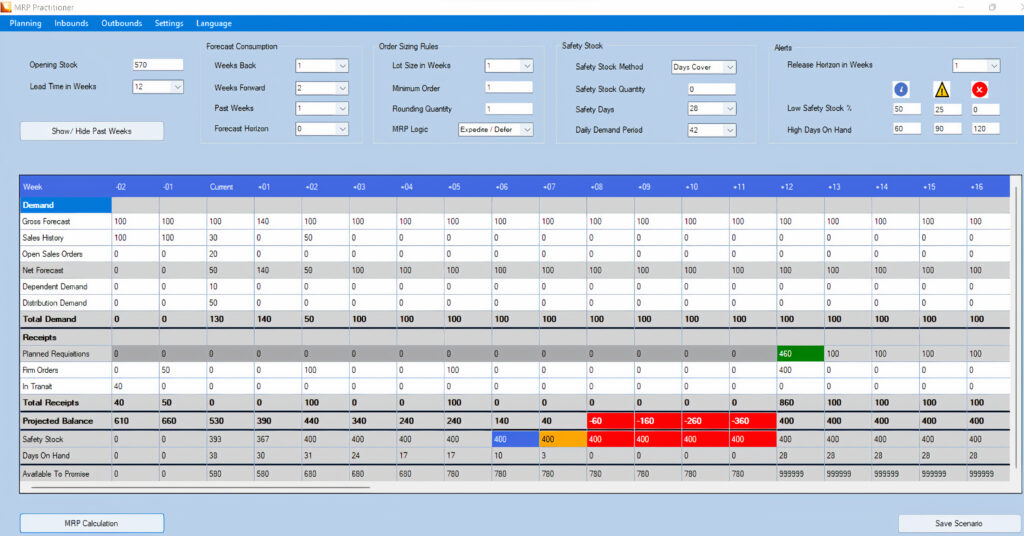 Every day processes - running MRP, shipping a sales order, receiving a purchase order or releasing a planned order enable understanding of how the plan adjusts as your business runs.
Essential alerts are shown together with the parameters that control them. If your MRP creates Expedite and Defer action messages then these can be viewed and actioned.
The app is installed using Microsoft ClickOnce technology which also ensures that you receive all future enhancements automatically.
A course guide is available from our cloud app covering the key figures, processes, control parameters and action messages/alerts but the user need not be constrained by this and can simulate their own scenarios to build a confident understanding of MRP.
The app mimics functionality typical of a best in class MRP system but not all real life systems will have the same capabilities or configuration. We can tailor the tool to work in the same way as your MRP if you require. We will also be happy to arrange a workshop to guide your team through the course content. In either case contact [email protected] to discuss your requirements.
Notes:
Microsoft Windows 7 (64 bit) or later and Microsoft Office 2010 or later are required.
Each copy of the app can be installed on one device only - it comes with a quick start guide describing the installation steps for their device. Click the document link below to see the QSG or download it.