How do I deal with trends and seasonality?
How should I set safety stock for a new product?
During our discussions with Supply Chain professionals these FAQs are always a concern.
Trends and Seasonality
A best in class ERP system will provide functionality to calculate the safety stock needed in each future period based on Days Cover - as long as the days cover is set well and a suitable period for calculation of daily demand is used we get a time phased safety stock which reflects how demand is trending.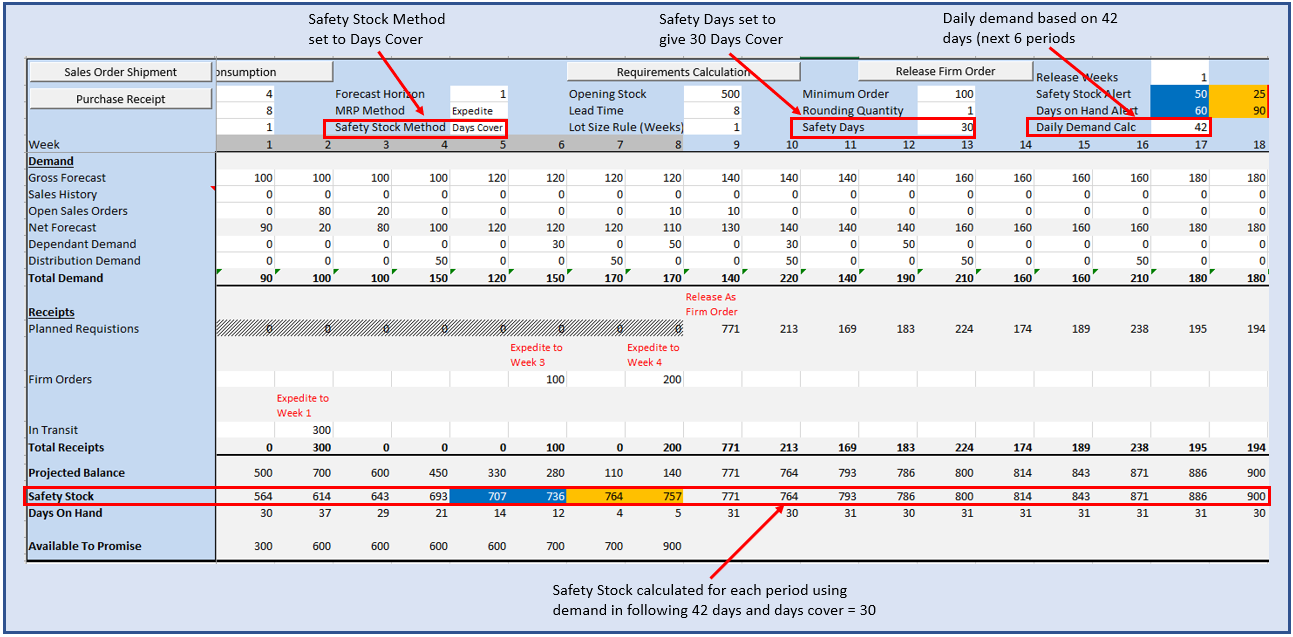 Simulation from Ying Bi Lie MRP Training Tool
In the example above the safety stock is always 30 days of future demand and is slowly increasing as the demand increases.
Seasonality if more difficult...the Days Cover with a relatively short period for calculating daily demand results in a high peak safety stock and this will lead to the bull whip effect: just at the point where we need peak production capacity at our suppliers we need additional capacity requirements to make extra safety stock! There is also a higher risk of excess if the peak demand is not realised.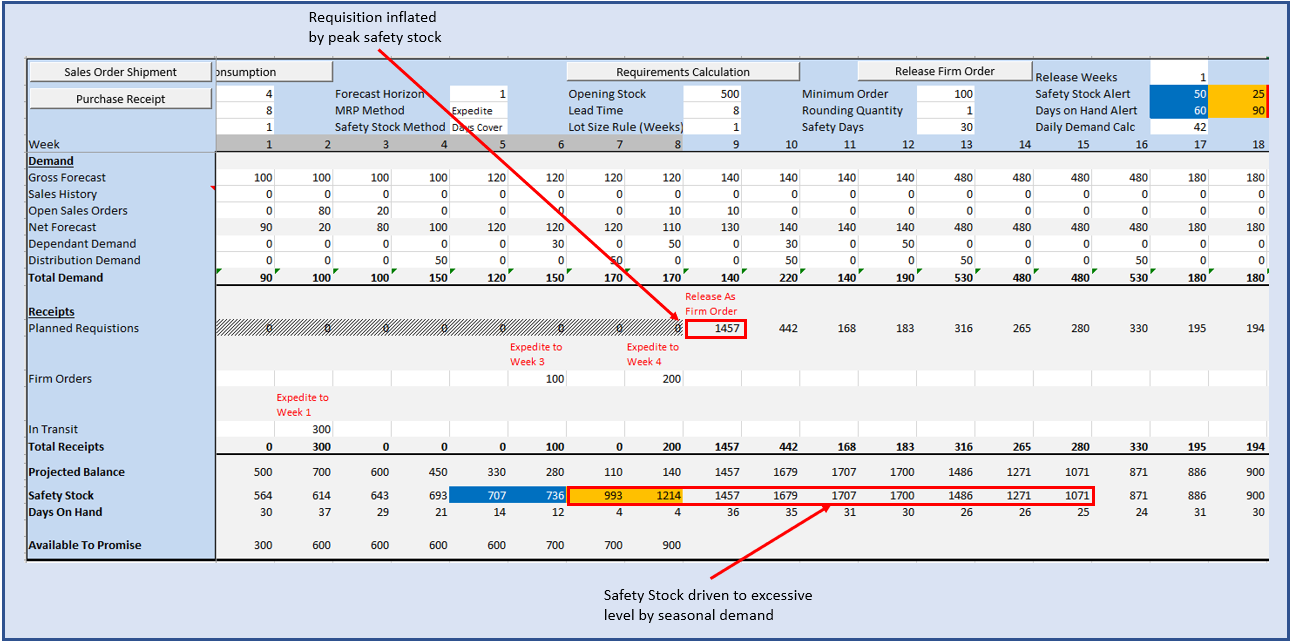 This can be improved by using a longer period to calculate daily demand giving a smoother safety stock as below...however this does increase the average inventory level over a year.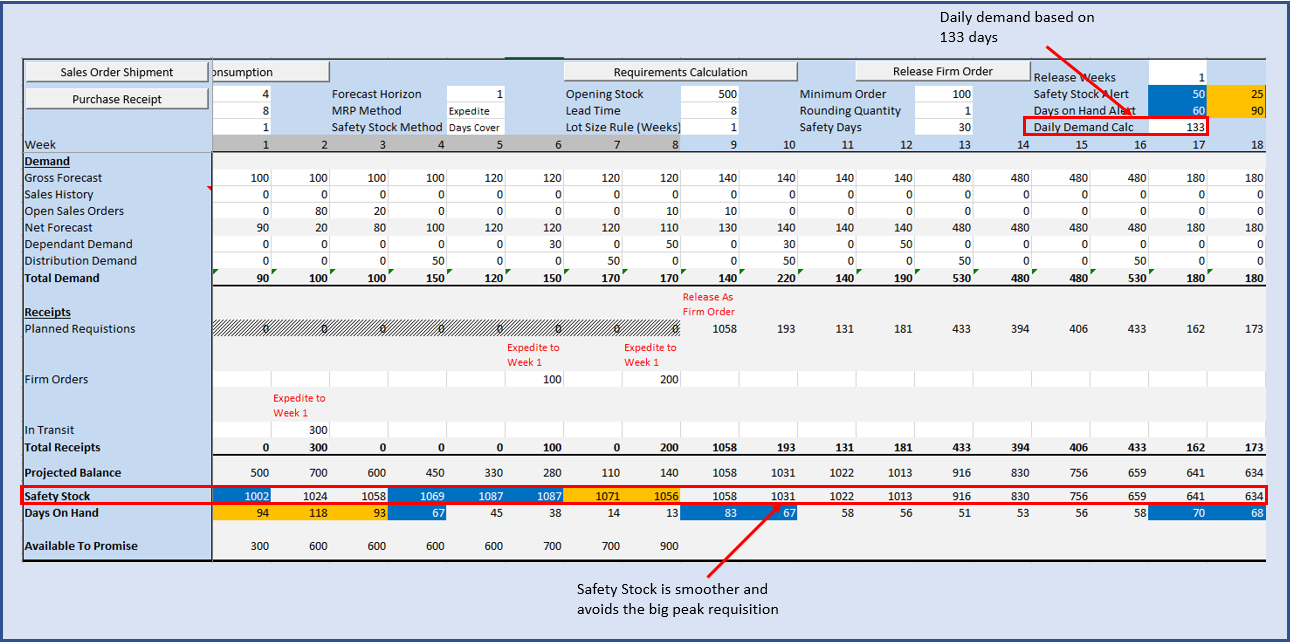 A better solution will be available in SafetyStock ProfeSSional which will provide time phased safety stocks for seasonal periods.
New Products
The lack of steady demand for new products makes the Days Cover method unsuitable...using Safety Time is a much better option - this brings forward arrival of stock by a number of days.
Because the initial demand is set to completely fill the supply pipe to all downstream stock locations we must be careful not to inflate this- using Safety Time avoids this as shown in the example below where 14 days Safety Time is used: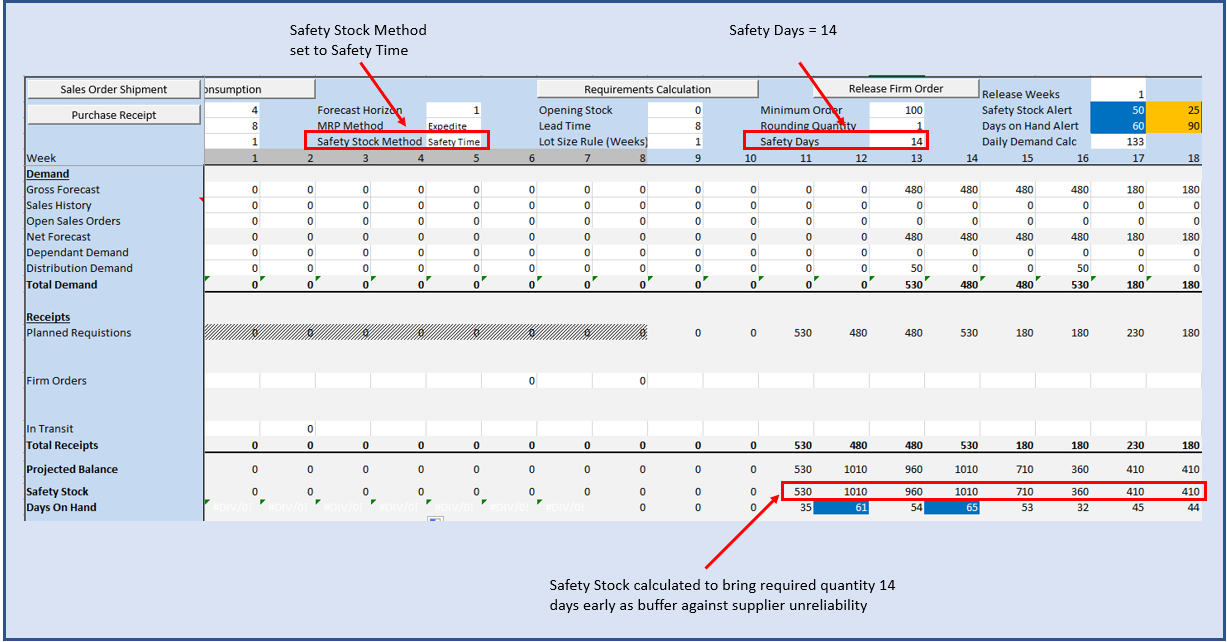 The safety time should be set to give a buffer against supply delays and be based on supplier reliability. SafetyStock ExpreSS can be used to calculate this.
Note - we also recommend using safety time on phase out products but on those the safety time should be kept very low as our aim is to deplete stock.
That's how to deal with trends, seasonality and new products.